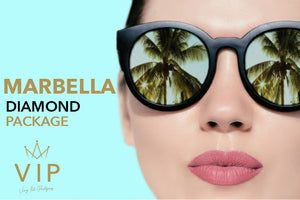 Marbella Diamond Package
Tax included.
Live the high life with this opulent stag or hen weekend in Marbella. Marbella's all about glitz and glamour and this weekend ticks all the boxes! 
You'll be staying on the famous Golden Mile situated conveniently between Marbella and Puerto Banus, which means you'll have the pick of the best nightlife on offer! 
With private airport transfers you'll be in the heart of the action in no time at all.  Once at the hotel, enjoy a drink or a dip in the rooftop pool, why not both!
VIP have organised you a day pass to the beautiful La Sala Beach club with beds, towels and water taken care of. With access to the 3 tropical bars, serving a delicious range of wines, champagne and cocktails, it's time for your group to enjoy a day of delicious decadence!
You wont go hungry with a 3 course meal and unlimited drinks included on one of your nights out in Puerto Banus! This is a popular restaurant situated within easy walking distance of the nightlife, serving the freshest Italian ingredients and a fine selection of wines and beers.
All your nightlife is taken care of with pre arranged guest list for the hottest spots in town. We've included a free bar for an hour at one of Puerto Banus's most popular pre club bars and have also thrown in a couple of nightclub entries, plus a VIP party package at the legendary Linekers.
Put this all together and we're sure you'll be begging to stay another few days! 
Fantastic lifestyle and activities for a stag or hen weekend in Marbella!
VIP Includes
3 Nights stay Central 4* Hotel
Breakfast Included
Return Airport Transfers
Rooftop Pool
La Sala Beach Club Pass
3 Course Italian Meal with Unlimited Drinks
1 Hour Open Bar
VIP Party Package
Nightclub Entry x 2
Minimum 12 pax 
Prices from 
01 APR - 31 MAY 339 Euros pp
01 JUN - 15 JUN 377 Euros pp
16 JUN - 10 SEP 388 Euros pp
11 SEP - 30 SEP 377 Euros pp