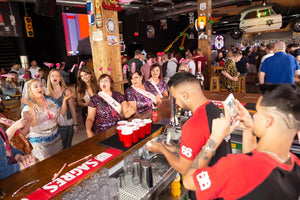 Very Into Partying
Albufeira Cocktail Making at the Strip
Tax included.
Confused about multiple screaming orgasms?
Stag or hen do afternoon in Albufeira? look no further then this fun, popular drinking activity!
Lusting for Sex on the Beach? Have BOTH and more during a crazy "Cocktail Making" session at one of Albufeiras most popular bars! Sample every cocktail on the list plus a glass of bubbly and shots!  Starting at 4pm or at 6pm, your Stag or Hen group can start the madness with party games, top tunes and delicious fun! 
Available at 3pm or 6 pm everyday
This product has multiple price, times and booking options so it cannot be booked online directly. Please add this product to your basket and checkout without payment and we will take care of it all for you personally. An email will be sent to you within 24 hours with available times and then payment options.
Available on:  Any Day
Speak directly to our dedicated English speaking staff +447391282921
Whatsapp - +351966599829
Email – hello@veryintopartying.com