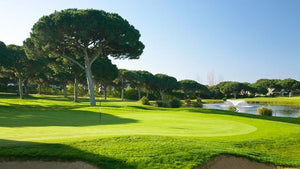 Very Into Partying
Vilamoura Pinhal Golf Course
Tax included.
Add more swing to your Stag Weekend with a round of golf with the boys. The beers are sure to be cold at the 19th hole.
This is a great course for the seasoned player or if you just have a game occasionally. Golf is always a winner for stag parties as it gives you some healthy stag competition and a range of ways to get your round in, its also a perfect way to clear those sore heads from the night before.
Pinhal Golf is a par 72 course and it is actually the second oldest in Vilamoura , dating back to 1976. I
As suggested by the name, you will find numerous pine trees, which line most fairways, including some nearer the greens, making this a scenic, pleasant course to play. That's why Pinhal is a great course for the summertime, since it has an abundance of shade. In fact, the 2nd hole has a pine tree right in the middle of the fairway, about 64 metres from the front of the green and, on top of that, you'll have to try and miss the two bunkers that protect it. Hole 6th is a par 4, stroke 2 that will put to the test your accuracy with a narrow fairway and two bunkers on the right, which you will also have to avoid.
The 16th hole is a par 5 stroke 1 with an uphill fairway plus a blind drive and second shot, with the added difficulty of two bunkers on each side. The 18th hole is what you call a true card wrecker. It is a difficult par 4 with a fairway that starts uphill, making the green invisible from the tee. The downhill approach with three deep bunkers and a very narrow green entrance is a tricky adventure you'll have to face on this one. Overall this is a long and very strategic course and one where you will have to make use of your best tactics to make a good second shot on most holes – sometimes it is preferable not to land that shot too much in the middle of the fairway in order to make the next one slightly easier.
A true challenge this course, anything but boring! Once you've finished your golf, why not head towards Vilamoura centre with its bustling marina and wide choice of restaurants and bars where to hang out with you stag squad!
Location:  Vilamoura
Duration: 18 holes
Calendar: Available everyday   
Set times: Please enquire 
This product has multiple price, times and booking options so it cannot be booked online directly. Please add this product to your basket and checkout without payment and we will take care of it all for you personally. An email will be sent to you within 24 hours with available times and then payment options.
Available on:  Any Day
Speak directly to our dedicated English speaking staff +447391282921
Whatsapp - +351966599829
Email – hello@veryintopartying.com